JOBST Elvarex Soft allows patients with oedema to live life the comfortable way:
soft and skin-friendly
easy to put on
offers excellent anatomical fit
therapeutically effective
JOBST Elvarex Soft: Living with oedema the skin-friendly way. The unique, knitted fabric of JOBST Elvarex Soft consists to a large extent of a particularly soft textured yarn. This specialized yarn combines skin-protected softness and excellent breathability. JOBST Elvarex Soft is therefore particularly well-suited for patients who suffer from dry, sensitive or fragile skin.
JOBST Elvarex Soft: Living with oedema the easy way. The knitted construction, designed especially to maximize the softness of the textured yarn, creates as extremely smooth fabric surface. Therefore this makes latex-free JOBST Elvarex Soft very comfortable to wear, as well as easy to put on. Comparative product testing* proves that JOBST Elvarex Soft is easier to put on than other brands of compression stockings.
JOBST Elvarex Soft: Living with oedema the efficient way. This compression stocking combines easing donning with proven medical efficacy. As well as the softness, JOBST Elvarex Soft offers optimum efficacy in the treatment of mild to moderate oedema, as it combines the right compression with the correct level of fabric softness. JOBST Elvarex Soft is both extremely comfortable and convenient to wear.
New ready-to-wear Elvarex compression stockings in a soft flat knit material. Compression Class II: 20mmHg. Open toe, knee high compression stockings with a silicone band. Available in Short or Long for different leg lengths.
Ask your Lymphoedema Practitioner to measure you to determine the correct size.
NOTE. Due to health regulations, we cannot accept Garment exchanges.
Be The First To Review This Product!
Help other Independent Living and Mobility users shop smarter by writing reviews for products you have purchased.
More From This Category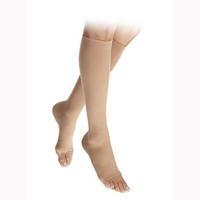 JOBST Elvarex Soft Knee High 30-40 mmHg
From $160.65